SKI AND SNOWBOARD SCHOOL
Our experienced ski instructors are trained with the latest knowledge and use effective teaching methods. So you or your children are in the best hands with us. You learn skiing or snowboarding faster and much safer than with a less experienced friend, because once learned wrong habits are difficult to correct later.
PRIVATE LESSONS FOR SKI OR SNOWBOARD
Lessons from 3-X years.
1 to 3 people per instructor.
For more people, we do not recommend a large age difference and a different level.
Teaching 8:50 - 20:00 every day.
The lesson lasts 50 minutes (2 consecutive lessons = 100min.)
Teaching beginners takes place in the ski school area with its own carpet.
Advanced training takes place on slopes, and the client has the option of purchasing a special ski pass at the ski school's office.
We recommend an order in advance for at least 3 days.
RESERVATION:
Book your lesson personally at the ski school cash desk or ONLINE (with 5% discount).
We recommend making a reservation at least 3 days before the date you requested.
Payment for evening classes can only be done within 16 hours or online..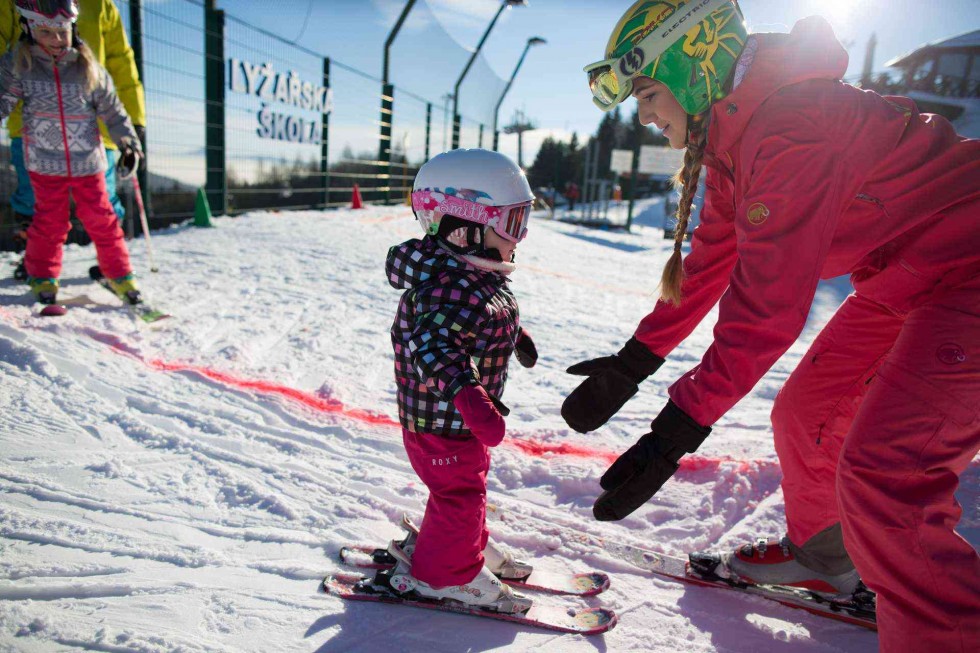 SCHEDULE:
| | | | | | | | | | | |
| --- | --- | --- | --- | --- | --- | --- | --- | --- | --- | --- |
| 8:50 - 9:40 | 9:50 - 10:40 | 10:50 - 11:40 | 12:10 - 13:00 | 13:10 - 14:00 | 14:10 - 15:00 | 15:10 - 16:00 | 16:10 - 17:00* | 17:10 - 18:00** | 18:10 - 19:00** | 19:10 - 20:00** |
* Only in ski school areal
** Based on the order
PRICE LIST:
1 Lesson
2 Lessons
(1 lesson cost when buying 2 lessons)

3 Lessons
(1 lesson cost when buying 3 lessons)

1 Lesson
(50 min.)
Office
Online

Office

Online

Office

Online
1 Person
590 CZK
560,5 CZK
560 CZK
532 CZK
540 CZK
513 CZK
2 Persons
840 CZK
798 CZK
790 CZK
750,5 CZK
760 CZK
722 CZK
3 Persons
990 CZK
940,5 CZK
940 CZK
893 CZK
900 CZK
855 CZK