Rope park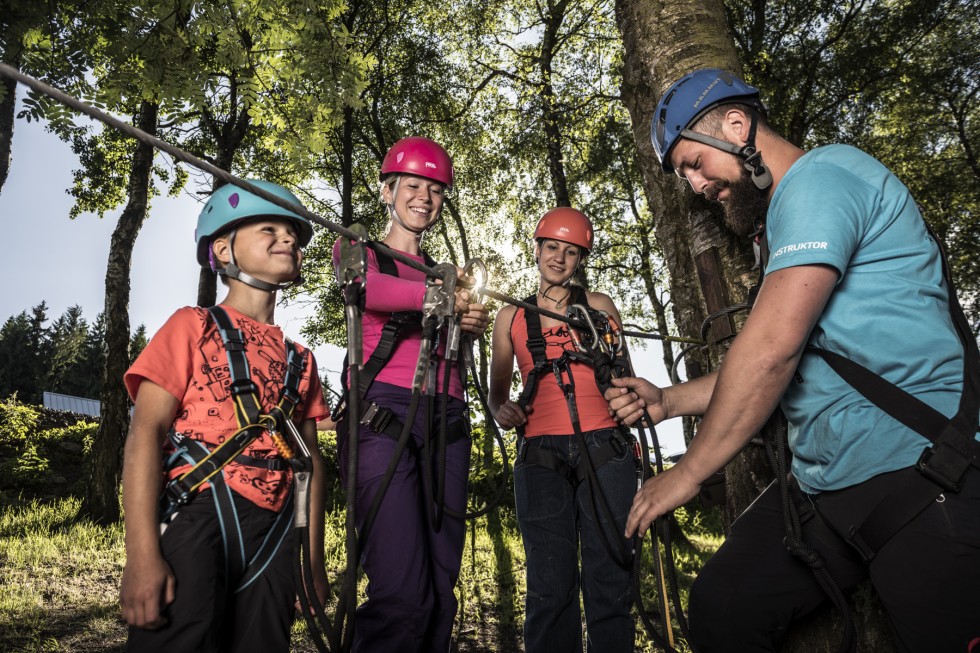 In the rope park, you will test your prowess and courage and get a safe adrenaline experience. Everyone who likes fun, adventure, adrenaline and unforgettable experiences should try the rope park in the Sports complex Klíny. A lot of fun for individuals, families with children, schools, camps and corporate teams and others...
You may be interested in:
for children, adults, groups, schools etc.
18 different obstacles between trees at a height of 3 to 5 m
high and low rope obstacles
min. the height of the figure is 135 cm for high obstacles
ideal activity for corporate teambuilding
safety equipment included
To book online, you have to register first, PAY entry to rope park (by card payment, bank transfer, etc.) and then schedule the day and time. Half an hour before your reservation, go to the ticket office where you will get a ticket for a person in rental shop. By buying online you will get a 5% discount compared to the ticket office.
OFFICE




ONLINE

Children from 135 cm to 15 years old

130 CZK
123,5 CZK

Adults

160 CZK
152 CZK

Instructor (For those who want to go through the whole rope park under the supervision of an instructor)

100 CZK
x

The price includes: 1x entry to the track, rental of a safety kit, helmets, training by an instructor.
If you have questions ...
Are you interested in rope park? For more information please contact our office ZIMLET Klíny by phone: +420 606 862 686 or email zimlet.rezervace@gmail.com.
Opening hours
from 18th May
June
July
August
September
October
Monday
closed
closed
11:00-18:00
11:00-18:00
closed
closed
Tuesday
closed
closed
11:00-18:00
11:00-18:00
closed
closed
Wednesday
closed
11:00-18:00
11:00-18:00
11:00-18:00
11:00-18:00
closed
Thursday
closed
11:00-18:00
11:00-18:00
11:00-18:00
11:00-18:00
closed
Friday
closed
11:00-18:00
11:00-18:00
11:00-18:00
11:00-18:00
closed
Saturday
11:00-18:00
11:00-18:00
11:00-18:00
11:00-18:00
11:00-18:00
11:00-18:00
Sunday
11:00-18:00
11:00-18:00
11:00-18:00
11:00-18:00
11:00-18:00
11:00-18:00